How do 

teams learn Inventive Teamwork? How do

leaders learn to build an Inventive Teamwork culture? EXPERIENCE.
Courage Institute simulations are fun vivid learning activities

 
-> that equip leaders and teams to assimilate information, get mobilized, set priorities, be capital-efficient, navigate through VUCA volatility, complexity and uncertainty -> counteract risk-averse traps -> find solutions to accelerate time-to-market and optimize value creation for the investors, patients, users and colleagues they serve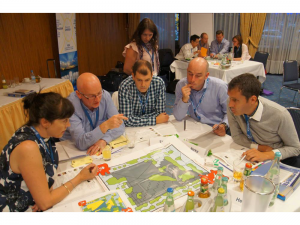 Haida Gwaii Adventure – our flagship Inventive Teamwork Leadership simulation

 – takes high-potentials through a breathless fast-paced 100-minute decision-making and strategic thinking exercise. It's a fun hunting and harvesting expedition through the Haida Gwaii Islands off the coast of British Columbia. Teams face 30 decision-points to maximize their ROI navigating  through volatile complex ambiguous market conditions, exacting customer requirements, quality and regulatory scrutiny – after receiving an infusion of capital and initial orders from pilot customers. Download brochure >>
"Learning comes from experience. Everything else just gives information."  

– Einstein
But real experience is too expensive and too slow. In a Courage simulation, leaders learn to lift teams out of risk-averse traps and PowerUP inventive teamwork in minutes, not days or weeks.
Walk in the Park – the exciting family of team 

problem-solving

 and critical thinking activities in-licensed from Israeli StartUp Nation game designers – takes high-potentials through a fun scavenger hunt through their favorite city, town, museum or shopping mall – with problems to solve, time deadlines to meet, touchpoints to navigate and clues to decipher. Teams manage their progress through timelines and virtual wealth-creation and market access hurdles as they navigate through volatile uncertain conditions with diverse interests and team perspectives. Click for more >>
"Make it fun, lift a team's spirits and they'll be far more open to new possibilities."
Courage Institute simulations 

give your teams

 20-120 minutes of fun activity and a celebration of their diversity and potential – followed by

 insights and AHAs and 

practical application planning.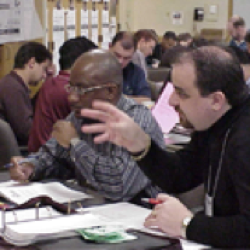 The "What – So what – In what – Now what" action learning formula

 equips your high-potentials to…
• Replace defensive thinking – groupthink, summit fever, frame blindness and loss aversion – with decisions that drive wealth-creation
• Replace victim thinking with accountability and value-creation
• Take advantage of market and competitive intelligence – to profit from scenario-building and informed calculated risks
• Replace hierarchy dependency with initiative – to thrive in stormy conditions and seize opportunities before they get away
• Use influence and personal impact to create a culture of value-creation – even in matrix structures and alliances, where they have limited authority
The most serious fun you can have indoors

with your team – with

vivid lessons that stay encoded

in your innovation leaders' toolkit years later
With Haida Gwaii Adventure, Pirates Cove, Walk in the Park, Adding Value FreshBiz and our other simulations,

your leaders don't just talk

about Courage and Inventive Teamwork –

they actually use new thinking and new instincts to build

Courage, create their own luck, achieve a 5-6X ROI and replicate that success in
real-world VUCA conditions

.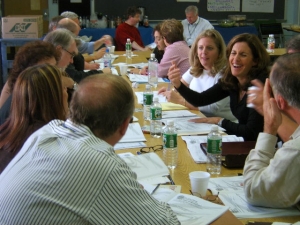 CLICK >> Spice up your next leadership course, teambuilding outing, strategy workshop or sales meeting with a vivid fun Courage simulation. Give teams and leaders the antidote to risk-averse traps – with 

vivid insights, practical skill-building and action plans that JumpStart Inventive Teamwork and accelerate value-creation.
.