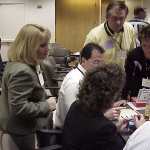 In teams with initiative, creativity, and inventive thinking, things look a little chaotic. And a bit heated, as key issues get wrestled down and people challenge each other's best thinking. Sharp direct questions jab – as teammates with diverse perspectives offer their best critical thinking to sharpen up team decisions and critique actions while there's still room to pivot.
The more fun the team has when they sharpen, jab, debate – the more they'll allow diverse perspectives to come together with creative abrasion rather than tip-toeing around key issues. So – when we bring teams together to teach them how to be inventive, creative critical and strategic thinkers – we teach them to make it FUN.
That includes making it FUN to fail – and fail quickly, before your team invests so much running one experiment that you don't have enough time or resources to hit the reset button and try a different approach.
Learning to manage fun means learning to channel and use impatience and adrenaline – so bursts of energy and quick sprints happen AFTER there's a pressure-tested plan, rather than running full-speed-ahead on a pathway to nowhere. It means looking around your team and seeing who's authoritative and loud and whether the team is automatically defaulting to follow their lead – and who's gone quiet and submissive, and might need a bit of encouragement to contribute more of their potential to Inventive Teamwork.
If the problems you're bringing teams together to solve are simple and easy – and require no more than known solutions to known questions – you don't need Inventive Teamwork. But if the opportunities you're seizing require more than tried-and-true formulas – and require a mix of diverse perspectives to anticipate new complexities and ambiguities without falling into risk-averse traps – you need teams who know how to throw (and take) a jab, an elbow, a warning shot and a shout as a call to action, without taking offense.
In a 2-hour FUN Walk in the Park, we can show your teams and leaders how to profit from Inventive Teamwork. In a vivid realtime exercise, we can show your leaders how the illusion of urgency and progress can get a team bogged down and stuck in risk-averse traps. And, when they see how they're trapped, we can show how anyone in the team who sees the problem can step up and lead from the middle to fix the problem and elevate initiative, curiosity, agility and performance.
Your 2-hour fun Walk in the Park can be a virtual excursion, with a board game that is mentally challenging and, for those who like to get up and move, a physical activity as well. Or, it can be a scavenger hunt that takes teams through your favorite city or town, museum or shopping mall – and puts their pacing, resource planning and strategic thinking on high alert.
Then – in the 2 hours wrapped around your fun team activity, we'll show leaders how to apply what they learned – so they take the FUN home, where it really matters, rather than leaving what happened in Vegas in Vegas. They'll learn how to redefine who's the boss, so the chain of command in your enterprise fuels rather than stifles creativity and initiative. They'll learn to mobilize diverse dispersed matrix partners with accountability and urgency – not confusion, cacophony and obstructionism. And they'll learn to work through conflicts with luminous efficiency, so there's a high level of brilliance and a low level of bandwidth-consumption and residual heat. And they'll encode the lessons into best practices with a GroupMind Express Virtual Learning and Application Action Learning Platform.
Our research and field experience shows – the Courage to face big opportunities and vexing problems with Inventive Teamwork is highest when teams and leaders make it FUN to challenge, joust and sharpen each other. We invite you to JumpStart that process in your next workshop, scrum, onboarding initiative, or company conference. And then bring it back to work – where it can really make a difference.
————————–
Dr Merom Klein + Dr Louise Yochee Klein are Principals at Courage Growth Partners and run The Courage Institute, which uses SERIOUS FUN to teach leaders how to PowerUP Inventive Teamwork. They invite you to take this assessment and see if you're ready to unlock the power of Inventive Teamwork when you bring people together in your enterprise and, if you're ready, to see how high-energy team simulation can JumpStart Inventive Teamwork.