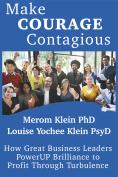 What happens when you see what's possible to profit through turbulence – and key people around you freeze, complain, obstruct or question your motives? Do you PowerUP, Puff Up or Go Along?
.
In this practical how-to leadership book, Klein + Klein show you how to lift teams out of risk-averse traps and Make Courage Contagious – to get the support, funding and traction you need. They show you how to take, "No, Not now, Not that way. Not you" – and start a dialogue that sharpens your team's thinking and upgrades their best ideas. They show you how to make diverse interests and backgrounds an asset, even when it's hard to understand or rubs some team members the wrong way.
.
Make Courage Contagious gives you a proven 5-part formula to raise your Encourage Quotient (EnQ) when you face Volatility, Uncertainty, Complexity + Adversity. With a higher EnQ, you'll step up, open up and lift up diverse contributors, rather than shut them down or push them aside.
.
Authors Klein + Klein illustrate courage-building with dozens of success stories, based on their decades of experience as business psychologists equipping innovation leaders to achieve disruptive breakthrough success
.
For more information, subscribe to our Blog on Courage, Innovation Leadership, Matrix Orchestration and the EnQ (Encourage Quotient) to accelerate adoption and strategy execution. Click to register @ LinkedIn >>
Or – check out Make Courage Contagious and our other Courage Institute thought leader Publications on Courage, Innovation Leadership, Inventive Entrepreneurial Thinking, Matrix Orchestration and Strategy-Execution
The book – PowerUP Brilliance: Lead from the Middle with Courage by Merom Klein + Louise Yochee Klein
A practical guidebook for cross-functional innovation team leaders and inventive domain experts — how to PowerUP Brilliance when you lead from the middle and mobilize teams in matrix structures and cross-functional innovation initiatives. How to use the PowerUP 5 Formula to overcome fear and complacency when you face adversity, ambiguity or the bias against creativity. How to ennoble teams to look beyond what's obvious or easy to sell to what's ethical and scientifically sound and mobilize a matrix of support. Order @ Amazon >>
The book – Courage to Act by Merom Klein + Prof Rod Napier
The Courage to Act, published by Nicholas-Breeley in the UK and USA, describes the 5 Courage Activators — the 5-step roadmap that business leaders apply to lift teams above fear and reluctance, volatility and competitive pressure. When matrix structures and audacious goals stretch teammates beyond their comfort zones, and when leaders face conflict-prone realities in conflict-adverse systems, the 5 Courage Activators equip leaders to flip the switch on brilliance, initiative, empowerment, accountability and strategy-execution. Our first book On Courage takes you through the 5 activators, one at a time, and shows you how to strengthen each one. Order @ amazon.com >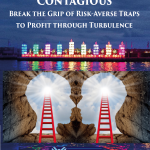 White paper: Make Courage Contagious: Break the Grip of Risk-Averse Traps to Profit through Turbulence
Most Fortune 1500 CEOs report a huge gap between high-potential talent and highly-innovative talent. The gap isn't because of a lack of smarts, principles or creativity. It's because too many high-potentials lack Courage and become a victim of 12 defensive thinking traps, lowering their imagination, initiative, optimism and "go-to" accountability. A high EnCourage Quotient (EnQ) lifts high-potential leaders from Level 1 complaining or a Level 2 "wait-and-see" bystander role — to Level 4 inventive thinking and Level 5 culture-shaping. This booklet is a summary of our recent book, Make Courage Contagious: How Great Business Leaders PowerUP Brilliance to Profit Through Turbulence.
Click to download >>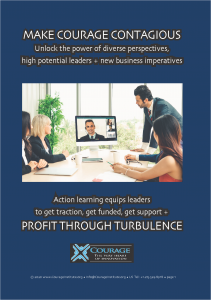 Program description: Courage High-Potential Leadership Program
Equip high-potential leaders being groomed for key management roles, in your sales or engineering team, your Innovation or EPMO, QA, ClinOps, Marketing or G+A function or post-M&A integration team to overcome risk-averse defensive traps and PowerUP inventive thinking — initiative — wealth-creation — foresight — strategy execution. With blended learning that includes action learning, Zoom + live workshops, MOOCs, 360-feedback + Individual Development Plans, you'll deliver a once-in-a-career breakthrough development experience for your high-potential leaders that broadens their perspective, equips them to profit from turbulence and can deliver >300% ROI. Click to download >>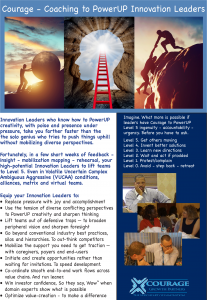 Service description: Executive coaching to build presence and coherence to get funded, get traction, get ahead
In <3 weeks, you can give a high-potential leader the 360-assessment and feedback that will sharpen self-knowledge — so a Level 3-4 leader with Courage learns to become a Level 5 leader who Builds Courage. In 16 weeks, you can monetize your investment in that leader's potential — with collaboration tools, accountabilities, and courageous conversations that bridge diverse perspectives, boost creativity and enlist better and more productive collaborations.
Click to download >>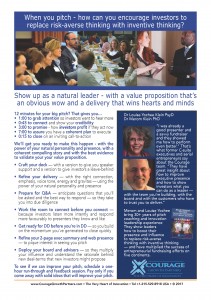 Service description: Pitch Coaching to get funded and get traction
Have a high-stakes presentation on the horizon with an investor, management board or key customer or alliance partner? Here's how we can make sure you deliver a clear value proposition – with the presence and inventive thinking to win support and make the most of the audience's wisdom and perspective .
Click to download >>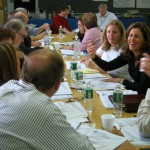 Program description: Courage presents the Haida Gwaii Hunt™ Simulation
Make it fun to build the entrepreneurial thinking that your high-potential leaders and your organization need — with hands-on experience breaking the grip of risk-averse traps and optimizing value-creation.
Click to download >>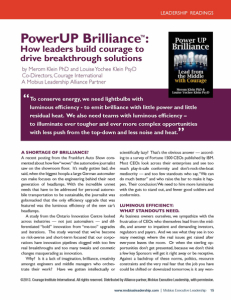 Mobius Leadership article on PowerUP Brilliance for breakthrough solutions.
To conserve energy, we need lightbulbs with luminous efficiency — to emit brilliance with little power and little residual heat. We also need teams with luminous efficiency — to illuminate ever tougher and more complex opportunities with less push from the top-down and less noise and heat. Here's how courage build courage to drive breakthrough solutions with luminous efficiency.
Click to download >>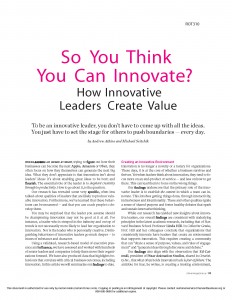 Courage Affiliate Dr Michael Seitchik's HBR article "So you think you can innovate?".
Do you think the best Innovation Leaders are the ones with the best "gut instincts" about what the market needs now — and what the fastest route to wealth-creation can be? Find out why there's a smarter better faster route to value-creation — that requires more courage-building and less bro-culture courage-dominating.
Click to download >>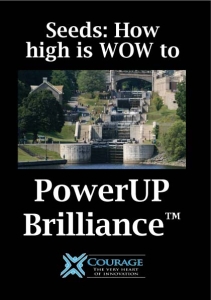 White paper: Seeds: How high is WOW to PowerUP Brilliance
What we can learn about A-level success, from a Chinese children's folk-tale about choosing an heir to the throne. What is Brilliance when "just following orders" is not enough to achieve the results that will make you a star? How does adherence help, because we can't all go rogue – and when do we need to think out of the box and experiment with disruptive breakthrough possibilities?
Click to download >>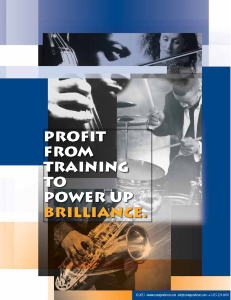 Program description: Profit from training to PowerUP Brilliance!
A description of action learning in Leadership Development – because getting the content right is not enough, unless the leaders you train actually USE that content and APPLY it to ACHIEVE the ROIC that you expect. How to build a blended learning platform that makes the most of E/M-learning, assessments, idea blogs and peer coaching trios – with high-impact learn by doing simulation workshops that do more than show and tell – by encoding new skills into your leaders' repertoire in a fluid automatic way.
Click to download >>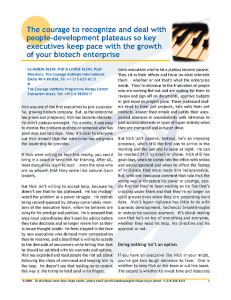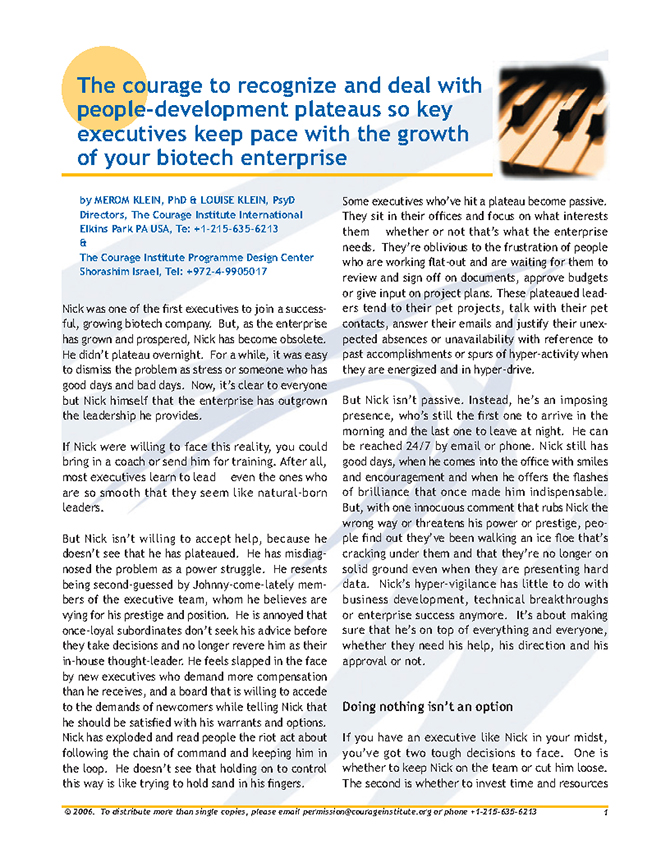 White paper: Uplift and ennoble a top performer who has plateaued
What do you say to a key performer who is afraid or reluctant to lift his or her game? Who is a high producer, but at the expense of being a high-maintenance or disruptive team player? Who has reached an inflection point – that once was effective, but now is limiting the enterprise's ability to scale up, adapt to new requirements, take on new thought-leadership and lift its game. How do you sound the call and encourage and ennoble this key performer to learn, adapt and grow?
Click to download >>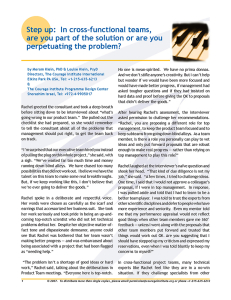 White paper: Step up. Speak up. Make a difference
In cross-functional teams, it is tempting to keep your head below the parapets and avoid the hot-seat. When sparks fly and differences seem irreconcilable, it is tempting to look upward for direction or adjudication rather than taking a stand, stepping up and asserting your own ideas. When the bias against creativity is real and the nail that sticks out gets hammered down, how are luminaries supposed to let their Brilliance shine? This white paper shows how to kindle the Courage to PowerUP Brilliance™ in yourself and the teams you lead — to advance your project, your enterprise, your career. Click to download >>